About Naturopathic Doctor Kelly Romero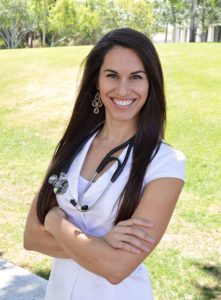 Learn more about Dr. Kelly Romero: I was born in Manhattan Beach, CA, and moved to Scottsdale, AZ with my family in 1996. I'm proud to say that I attended high school, undergrad, and graduate school all in Arizona. Go Sun Devils! I enjoy running, yoga, and due to my competitive spirit, playing sports, such as volleyball. I live in Mesa, AZ with my husband Nick, our daughter Delphine and our son Kenton. We love to spend our time traveling, camping, and having weekly dinners with our families.
As an athlete, I have my own personal experience with chronic pain. I understand the importance of effective treatments as well as natural pain solutions. My education and experience has led me to incorporate the Functional Medicine philosophy along with Regenerative Medicine treatments to provide my patients with pain relief, faster injury recovery, and enhance daily function. Regenerative Joint injections, such as Prolotherapy and Platelet Rich Plasma, have shown to have the most successful and long-lasting results for my patients, which is why I am dedicated to being an expert in regenerative injection therapies and bring my patients the best possible health outcomes. Learn more about Regenerative Medicine treatments.
For a very long time, I have been passionate about health and wellness. I've always been interested in helping people adopt healthier lifestyles, as I have worked as a personal trainer and health coach in the past. Ultimately, my love for educating people on wellness and disease prevention made my choice to become a Naturopathic Medical Doctor an easy decision. I felt that naturopathic medicine encompassed the same philosophy I have with regard to achieving optimal health and disease management.
As a physician, my goal is to provide individualized healthcare using a system of natural medicine that not only improves the longevity of life for my patients, but the quality of life as well.
Dr. Kelly Romero is a licensed Naturopathic Medical Doctor and owner of Longevity Medicine & Sports Therapy in Chandler, AZ. Her clinic has an emphasis in regenerative medicine, pain management, sports medicine, hormone replacement & pellet therapy, and anti-aging medicine. She is an expert in regenerative and orthobiologic joint injections for pain, such as Perineural Injection Therapy, Trigger Point Injections, Prolotherapy, Platelet-Rich Plasma, A2M Plasma Protein Concentrate, and Birth Tissue Allogenic products.
Out of her Naturopathic Practice in Chandler, AZ, Dr. Romero offers an integrative approach when combining modern medical science with natural complementary practices. Her focus is to provide comprehensive and preventative care that meets the needs of each patient. Dr. Romero has a cash-based practice called Longevity Medicine & Sports Therapy in Chandler, Arizona.
She received her medical degree from the Southwest College of Naturopathic Medicine & Health Sciences. As a student, she co-founded the SCNM Sports Medicine club, which offers volunteer opportunities for medical students to provide naturopathic and sports medicine services to the athletic community. She received a Bachelor of Science in Exercise and Wellness and Bachelor of Science in Health Promotion from Arizona State University. Additionally, Dr. Romero is a Certified Exercise Physiologist by the American College of Sports Medicine, and a Certified Health Education Specialist by the National Commission for Health Education Credentialing, and Certified Kinesio Taping® Practitioner by Kinesio Taping® Association International.


View my free health tips.
Stay up-to-date with my health & wellness advice.
Topics include platelet-rich plasma, nutrition, sports medicine, anti-aging, collagen for hair and joints, hormone balancing, peptide therapy, and much more.
Join my mailing list today.
Get started with my free guide Six Secrets to Joint Regeneration.
I'm a Naturopathic Doctor in Chandler. Call and schedule your FREE consultation today via telemedicine or at my office in Chandler. (480) 331-2630